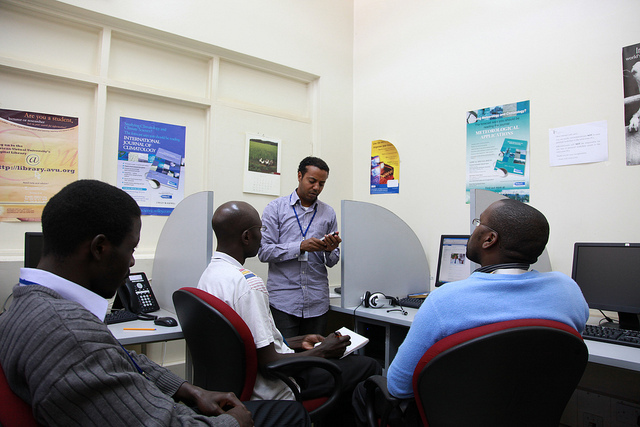 As everywhere else in society, businesses are turning more and more to video as a way of learning and communicating. YouTube and other video posting web sites draw more views by the day, and most Google searches turn up some sort of video tutorial. Businesses are increasingly using video to train employees as well as to interact, collaborate and give positive feedback. Most people are visually oriented, so using video can be an effective way to convey information about your business to employees, consumers, and investors.
Using Video To Train Employees
Features of IP phone systems such as video conferencing and recording can allow diverse employees to experience the same training process as well as collaborate on projects without travel expenses. When employees live across the country or even the globe, using video to conduct training just makes sense.

1. Live training sessions can be conducted through the business phone system and recorded so that those who are unavailable can view them at their convenience. Training materials about procedures can also be recorded and archived so that managers can avoid covering the same information repeatedly.

Next step: Contact Nexogy today to find out how you can use the video features of an IP phone system to benefit your business.


Using Video Conferencing To Interact and Collaborate
2. Video conferencing is a medium that can allow employees to interact with each other and collaborate on projects across distances. The use of video for collaboration allows the business to make use of its best resources to move forward and get the job done, whatever the need may be. The expert in New York can work with the expert in Los Angeles, all without needing to spend time and money traveling for a face-to-face meeting.

Video conferencing is an effective use of time, talent and resources for many businesses, and it is included as a standard feature in IP phone systems, which are already more cost effective than traditional phone systems. Using the video features of the system to the fullest makes IP phones even more of a bargain.


Using Video For Marketing
3. Businesses can also use video in their marketing efforts. Using the video recording features of their business phone system, businesses can make videos showcasing their strengths and unique qualities. These videos can be used on the business website or posted on YouTube and social media to raise awareness of the brand.

Digital marketing is an up and coming way to grow a business. Although the equipment required to produce video is no longer expensive or difficult to use, letting a professional or someone with experience edit and produce the videos your business creates will ensure that they look professional and allow the business to put its best foot forward. Using some of the money saved with an IP phone system to produce professional quality videos for marketing is a wise choice that will benefit the business and its marketing efforts.

Next step: Contact Nexogy today to start using video more effectively within your business.


Carlos Lahrssen is president of Nexogy.
photo source: Flickr
Topics: videoconferencing
About the Author
Carlos Lahrssen is president and CEO of nexogy, as well as founder, president and CEO of LD Telecommunications, Inc., nexogy's parent company. Lahrssen is an industry fan, follower and advocate — stay...
read more