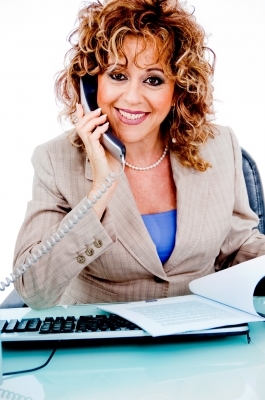 The phone system remains a central feature of today's business communications. Even with email and instant messaging, businesses rely heavily on their phone systems. Here are 4 common telecommunications obstacles that businesses of all size still face, and how to deal with them.
1. You Need Help Managing Calls, but Can't Hire a Receptionist
This is a common problem with small start-ups, particularly in the first few months. As the business settles into its routine, there are more calls than usual, and handling all these calls can be a challenge. Yet on a start-up budget, you can't afford to hire a receptionist.
Fortunately, today's hosted telephone systems often include many helpful features. Call hunting, for example, allows any call to a particular number to automatically route to the next free channel available in a group of specified numbers, so more callers speak with an actual person and fewer are sent to voicemail. Call forwarding allow employees who know they will be absent to forward their number to someone who is qualified to take their calls.
2. Your Travel Budget Is Limited, Yet You Need to Meet With Multiple People
Collaboration is the name of the game in 21st century business. You may need input from one or more consultants or contractors at the same time, but gathering everyone can be prohibitively expensive.
Today's conference calling telecommunications technology can solve many of these problems. Conference calling is much easier and more flexible than it used to be, and video conferencing is an increasingly popular option on today's hosted telephone systems. The cost of video conferencing can produce a return on investment quickly, by saving significantly on travel costs and providing minimal disruption to participants' schedules.
3. Your Workforce is Mobile and Needs to Stay Connected
Rarer is the company today where employees report at 8 a.m. and stay in the office all day. Field workers and telecommuters require hosted telephone systems that accommodate them seamlessly.
With today's telecommunications systems, you can have calls to a company number automatically routed to workers in the field or at home on their own personal phones or devices. You don't have to buy handsets, because the systems can be programmed to add existing devices, so the experience is seamless and transparent for both callers and employees.
4. You or Callers Experience Technical Problems
Sometimes an echo effect during calls can be due to something as simple as a speakerphone located on a glass or metal table, which allows echo to feed back into the microphone. Moving or repositioning the phone often solves the problem. Sometimes cheaply made headsets or conference calls are the problem, allowing speaker output back into the microphone. Swap out the headset or phone for a different model and see if that solves the problem. Echo can also result from any point where different telephony technologies connect. Digital to analog gateways are common sources of echo, as are places where a two wire to four wire conversion occurs.
Static may be caused by a number of issues on either end of a call. If you constantly hear static on your phone, swap your phone out with another one and make a call. If there's no static, then the problem is probably the phone itself, which may need to be replaced or exchanged.
If the entire phone system goes down, you may be able to restore it by rebooting the system's multiplexer or channel service unit (CSU). These devices often resemble an internet router, and turning it off and on again can reset the system and sometimes fix the problem. If rebooting doesn't help, contact your telecommunications vendor for help.
Technical problems like echo, static, long distance problems, or network problems are minimized when you carefully choose your provider of hosted telephone systems. Today's telecommunications systems have significant voice over internet protocol (VoIP) components, and the underlying infrastructure must be able to support VLANs and must be configured properly. Top telecommunications providers like Nexogy take care up front to assess your needs and the hardware and networking requirements necessary to meet them.
Photo Credits: imagerymajestic / freedigitalphotos.net, photostock / freedigitalphotos.net
Topics: mobile workforce, business productivity
About the Author
Carlos Lahrssen is president and CEO of nexogy, as well as founder, president and CEO of LD Telecommunications, Inc., nexogy's parent company. Lahrssen is an industry fan, follower and advocate — stay...
read more