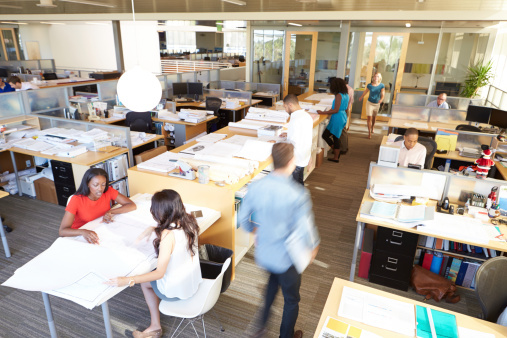 Successful businesses run like precision machines in some ways. People understand their role in the organization, ask for help when they need it, and deliver what they're supposed to when they're supposed to. For this to happen, employees must communicate effectively, so small misunderstandings don't proliferate and problems can be fixed while they're small, rather than worsening.

Breakdowns in communication can result from communications technology that isn't up to the demands your business places on it. When everyone has the tools they need to communicate effectively, efficiency and productivity can increase dramatically.
Here are 4 signs employees aren't communicating like they should be, and what you can do about it.
Sign 1: Clients Are Confused, Frustrated, or Fed Up
If a client reaches a wrong extension once, it's usually not a big deal. But when your customer or client repeatedly has trouble reaching the correct contact, gets cut off, or cannot figure out how to leave a voicemail message, eventually he will give up in frustration. Your business phone system should make it simple for callers to reach the correct person, and to be able to speak to someone else or leave a message if they are unable to.
Solution:
Upgrade to a business phone system with enterprise-level features that route calls correctly. An auto-attendant feature is like a switchboard receptionist that never takes vacations, and features like find-me / follow-me and call forwarding help ensure callers are never left hanging on the line. The best business phone systems allow your mobile employees to access the system wherever they are, as if they were sitting at their desk.
Sign 2: Employees Regularly Get Calls Meant for Other Employees
With old-fashioned phone systems, employees may have to cover for coworkers who are away, and that's a recipe for confusion. A clunky voicemail system coupled with a flurry of sticky notes is a "communication system" that's completely inadequate for the 21st century office.
Solution:
Today's business phone systems minimize erroneous messages. When calls are easily routed through an auto-attendant or automatically sent to an employee's mobile phone when he's away, calls reach the right person. And with great features like voicemail-to-email transcription, employees receive transcripts of voicemail messages in their email or text box, along with a sound file they listen to.
Next step:
Improve your office communication with a better business phone system.
Click to learn more
.

Sign 3: It's Impossible to Get Everyone Together for Important Meetings
Mobility is a given in today's workplace. Businesses of every size have employees meeting off-site with clients, working at distant jobsites, and traveling all over the globe. But sometimes you need everyone together for important announcements or to get everyone caught up on a project. Trying to schedule a traditional conference room meeting may seem impossible.
Solution:
Easy-to-use teleconferencing is baked right in with today's best business phone systems. Using a simple web interface, everyone can gather whether they're telecommuting, sitting at their desk, or at a trade show halfway around the world. Many systems even have easy video conferencing, so you can see everyone and have more of an "in-person" feel to your meetings.
Sign 4: People Return from Business Trips to Communication Chaos
The days when an account manager came back from business trips to messages meticulously kept by a secretary are long gone. But in many cases, inadequate communications systems mean that returning from business travel involves dealing with a chaotic mess of voicemails and scribbled messages. Sorting everything out can be a nightmare.
Solution:
A business phone system that goes where your employees go is necessary these days to minimize confusion and make getting back on track after traveling quicker and easier. If an important call comes in on Tuesday, your employee will get it on Tuesday. And if she needs to call a client back, she can do so from her mobile phone, making very low cost long distance or international calls from anywhere.
You may think your small business doesn't need an advanced business phone system because there are only a few employees. On the contrary, a great phone system can be the key to helping your small business grow. When your workforce has the communications tools it needs, nobody misses important communications, and getting everyone together for important meetings is greatly simplified. And with a hosted VoIP business phone system this can be done at a cost that will pleasantly surprise you.
At
Nexogy
, we provide customized VoIP business phone systems with outstanding features that keep employee communications running smoothly. Setup costs are minimal, and monthly rates are probably much less than what you're used to. Give your employees great tools, and they'll have an easier time keeping your business running problem-free, impressing customers, and helping ensure success.
Carlos Lahrssen is president of Nexogy.
Topics: business productivity
About the Author
Carlos Lahrssen is president and CEO of nexogy, as well as founder, president and CEO of LD Telecommunications, Inc., nexogy's parent company. Lahrssen is an industry fan, follower and advocate — stay...
read more