When planning your business communications system, whether you have a new business or an established one, perhaps you should consider investing in a personalized toll-free number. These are toll-free numbers where the numbers spell something meaningful to customers and potential customers (like 1-800-flowers), and the cost is more reasonable than you may think.
A personalized toll-free number is a terrific marketing and branding tool, and tells your customers up front that you care about them. Great customer service can make the difference in business success, and having a custom toll-free number can give you a competitive edge even before a call is made. Here are 5 benefits of a personalized toll-free number.
1. They're Easy to Remember
Remembering 1-800-contacts is much easier than remembering 1-800-266-8228. This means that even after a marketing campaign is over, potential customers can reach you without having to look up your number, so your phones will ring more consistently, year-round.
2. Inbound Calls Represent Valuable Leads
You've heard the saying, "a bird in the hand is worth two in the bush." Similarly, a contact calling you is more valuable than a contact filling out a form. Inbound calls eliminate some of the steps involved in building a new customer relationship, allowing the sales process to move forward while the lead is still warm.
3. Personalized Toll-Free Numbers Convey Exclusivity
To an extent, personalized toll-free numbers are exclusive, because there can only be so many of them. Customers and clients associate these numbers with higher profile businesses, helping them form a positive opinion of your company even before picking up the phone. A personalized toll-free number represents instant prestige.
4. Even in the Mobile Age, "Toll Free" Means Something
Sure, a lot of people have unlimited calling plans that avoid long distance charges, but simply knowing that a number is toll-free gives customers and clients a sense of solidity and gravitas about your company. Moreover, personalized toll-free numbers are a step above ordinary personalized numbers, because they impart a sense of longevity about your business.
5. They Appear More Professional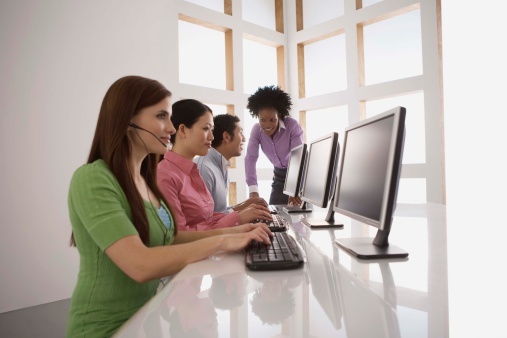 The biggest players like FedEx and American Express have had personalized toll-free numbers for a long time, and the association between a personalized toll-free number and professionalism was established long ago. Having your own personalized toll-free number puts you in the same league with the big guys in the minds of your customers.
When choosing a personalized toll-free number, you may not get your first choice, but your telecommunications provider may be able to help you create and lock down a great custom number. A great personalized toll-free number should:
Be easy to remember
Say something about what your business does
Be spelled logically
Spell something using all digits beyond the toll-free exchange prefix
Figuring Out ROI with Personalized Toll-Free Numbers
If you want to figure out return on investment with a personalized toll-free number, it's easy. You need to know:
The average value of a sale
Average number of calls in a month
Average conversion rate for calls
With your custom toll-free number coupled with a marketing campaign, you can expect response rates of 12% to 42% higher than before you had your custom number. Let's assume your response rate increases by 30% after you add your personalized toll-free number.

Suppose your average sale is worth $300, and you get an average of 300 calls per month, with a 5% conversion rate:
300 calls x 5% conversion rate = 15 sales per month, worth $4,500
Add a custom toll-free number at a cost of approximately $300 per month, and with a 30% bump in the number of incoming calls, even if the conversion rate doesn't go up, you'll see:
390 calls x 5% conversion rate = approximately 20 sales per month, worth $6,000
In other words, a $300 per month investment in a personalized toll-free number could result in $1,500 more in sales per month.
At Nexogy, we offer custom toll-free phone numbers with no monthly fees and a cost of just $0.049 per minute. Even if you're just starting out, you can project a big-league image and reap the many benefits that personalized toll-free numbers confer. Nexogy offers comprehensive telecommunications plans at affordable prices, with every feature you need to run a business in today's competitive, always-on, mobile world.
Topics: business productivity
About the Author
Carlos Lahrssen is president and CEO of nexogy, as well as founder, president and CEO of LD Telecommunications, Inc., nexogy's parent company. Lahrssen is an industry fan, follower and advocate — stay...
read more