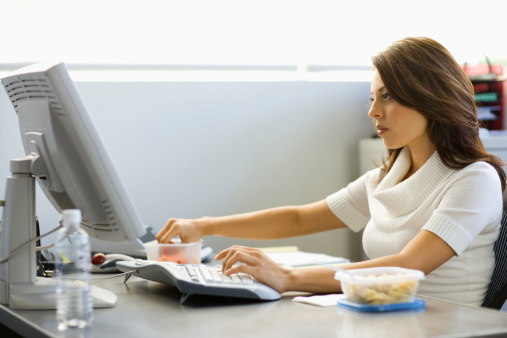 A 2013 report from a European study by the Center for Economic and Business Research (CEBR) said that worker productivity has grown by 84% since the 1970s. Productivity directly related to information and communications technology (ICT) was reported to have grown by 480%.
The reasons for these improvements are obvious since the study covers the era when computers and technology revolutionized many business processes. In more recent years, faster broadband connections and mobile devices have driven further productivity improvements, enabling remote working and making it easier for employees to be productive outside the office. Even further increases in office productivity are predicted for coming years.
If you want to improve the productivity of your office environment, here are six proven productivity boosters to consider.
1. Good Email Management
Email filtering can streamline email usage, cutting down on the amount of time workers spend checking and replying to email. On average, workers spend
more than one-quarter of their workweek
dealing with email, but there are tools to help reduce the proportion of time devoted to this task. Many email programs can be configured to sort email into categories so that people can see right away which are important, which can wait, and which can be ignored or deleted. And inbox filtering services like SaneBox can be used to filter, organize attachments, unsubscribe to mass emails, and move non-urgent emails to their own folder.
2. Online File Storage
Microsoft SkyDrive and programs like Dropbox have free and paid options for secure online file storage. These services automatically back files up, saving time spent manually backing up files, and helping companies get back online quicker after a problem like a server crash. Furthermore, with online file storage, employees can access files when they're away from the office, and files can be shared with multiple users, which is much more efficient than having everyone email files back and forth. And online file storage is a terrific way to cut down on the amount of paper you have to store in your office.
3. Schedule and Calendar Organization
Planning meetings is much easier if you use software that allows people to vote on a meeting time, or that allows meeting organizers to view multiple schedules and calendars at once. Google Calendar is free, and lets users share calendars, edit multiple calendars, and even sync calendar information to mobile devices for even more convenience. Schedule and calendar organization and syncing is extremely helpful for organizations where employees work remotely or frequently travel on business.
4. Telecommuting
With some jobs, telecommuting simply isn't possible. After all, a surgeon can't just phone it in. But there are many jobs where employees can be allowed to work from home some or all of the time. In the 21st century, work is what you do more than a place you go, and many employers have found that telecommuting leads to increased productivity, lower costs, and better staff retention. Offering telecommuting can even help companies hire those star employees they might not be able to land otherwise.
5. A Great Phone System
Phones do so much these days that no business can be without a professional business phone system. Fortunately, hosted VoIP business phone systems are amazingly affordable and provide features that can do wonders for boosting productivity. With a hosted phone system, you can enjoy capabilities like easy teleconferencing, find-me/follow-me, 24/7 auto-attendant, and the ability for remote workers to seamlessly access the company phone system using their mobile phones. If you only make one change to improve productivity this year, invest in a great phone system.
6. Honest Evaluation of What Works
While you should carefully consider expensive investments in productivity enhancement technology, many productivity boosters are relatively inexpensive, and you should periodically evaluate whether they actually improve productivity. If your email management tool doesn't keep employees from drowning in email, then why use it? If online file storage is unsatisfactory, you have other options. Improving office productivity requires that you occasionally evaluate what actually works, and what hasn't been worth the effort, and take action based on that information.
At
Nexogy
, we help businesses improve productivity every day. With hosted VoIP business phone systems,
Nexogy
helps even small businesses have enterprise-grade phone services so they can present a professional appearance to the world.
Nexogy
customers enjoy a range of exceptionally useful features that let workers do their jobs knowing they can rely on effective business communications anytime and anywhere.
Carlos Lahrssen is president of Nexogy.
Topics: business phone systems, business productivity, telecommuting
About the Author
Carlos Lahrssen is president and CEO of nexogy, as well as founder, president and CEO of LD Telecommunications, Inc., nexogy's parent company. Lahrssen is an industry fan, follower and advocate — stay...
read more