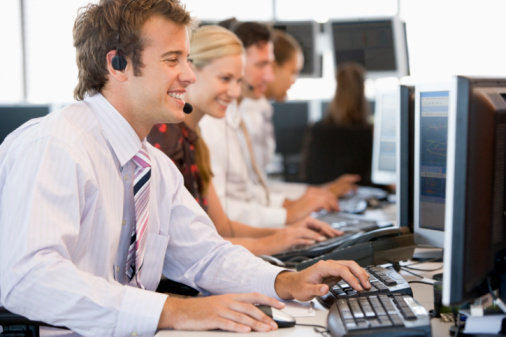 Smaller businesses often shy away from the idea of setting up a call center, or don't even consider it as a possibility. Until recently, setting up a call center was a major undertaking, involving significant capital expenditure, logistical complexity, and phone systems that were expensive to operate and may have lacked vital features.

All of that has changed.
Your small business may already have all the functions of a call center, but performed in an ad hoc manner that's inefficient and that may distract key employees from core business functions. If your employees regularly answer customer calls about product features, and/or receive and answer technical questions, then they're already doing the work of a call center.


Maybe it's time to formalize things and set up an actual call center. You'll free up existing employees to focus on key responsibilities, have better and more organized customer service, and set the stage for better growth for your company. And with cloud call center solutions, you can set up a call center with minimal difficulty. Here's how.


1. Define Needs for People and Processes
If you imagine call centers as vast cubicle farms with hundreds of workers, it's time to revise your thinking. You can set up a small call center with just a few workers through cloud call center technology, because you no longer need a huge operation to enjoy economies of scale.
Once you have an estimate of how many call center agents you need, you should plan business processes for your call center. The more specifically you can envision these processes, the easier call center implementation will be. Know what you expect your call center to accomplish (answer technical questions, provide customer support functions, etc.) so you'll know what qualifications to look for in call center agents and what phone features you need.
Learn more:
Contact Nexogy
and learn about cloud call center solutions.
2. Define Call Center Integration Needs
With good call scripting or CRM tools, integration of your cloud call center system with back-office functions, and a coherent plan for work flows, you can minimize problems when it's time for your call center to go live. Many call centers incorporate multi-channel functionality from the beginning, so agents can respond using voice, chat, or "call me" requests from the same application.
3. Explore Cloud Call Center Technology
Technology is on your side if you need to set up a call center quickly. Cloud call center technology is flexible enough to fit into any business model and is extremely cost-efficient compared with yesterday's hardwired call center technology. Furthermore, cloud call center solutions are easily scalable, so if you need to increase the size of your call center - even temporarily, such as for the holiday season - you can do so quickly and cost-effectively.
4. Choose a Call Center Solution With Powerful Software
Today's cloud call center technology offers features you may not believe you can afford. For example, a system that brings up customer data immediately when that customer calls is well within your reach. So are systems that integrate with CRM platforms. Some systems even allow you to offer telecommuting. If a snowstorm keeps agents from commuting, they can be set up to take calls at home easily and quickly.
5. Ensure Your Call Center Manager Has Adequate Tools
Look for a cloud call center provider that gives your call center manager tools for maximizing call center effectiveness. It should collect vital statistics and allow easy reporting so you can analyze where your call center excels and where it needs work. With statistics and reporting, your call center manager can schedule shifts appropriately and help minimize problems like long hold times for callers. With training features like listen-in, whisper, and barge-in, training new agents is quicker and more effective.
6. Choose a Physical Location
Obviously, it's easier to house a call center of six agents than one with 200. Cloud call center technology makes setup easier even if you expect your call center to grow considerably. Should you have to move your call center from a conference room-sized location to something larger, cloud call center solutions can be moved quickly and easily, without the upheaval that moving older phone systems required.
Cloud call center technology is ready to get you started. Setup and management is done through an intuitive web portal, and your up-front investment can be as simple as providing office space and agent headsets.
Nexogy
offers cloud call center solutions that can get you started quickly, with minimal hassle. If your startup employees are spending too much time performing call center functions, having an actual call center is worth considering. You'll provide better customer service, and free your key employees to focus on core business processes.
Learn more:
Contact Nexogy
and learn about cloud call center solutions.
Carlos Lahrssen is president of Nexogy.
Topics: call center, call center software
About the Author
Carlos Lahrssen is president and CEO of nexogy, as well as founder, president and CEO of LD Telecommunications, Inc., nexogy's parent company. Lahrssen is an industry fan, follower and advocate — stay...
read more