Sometimes simple lack of effective communication can turn a small misunderstanding into a much bigger problem. Everyone's communication style is different, but when you encourage good communications practices in your business - both internally and with external clients or customers - you can ensure these problems are kept to an absolute minimum.
If communications in your business are not strong, people may miss deadlines, duplicate efforts, and suffer from low morale. But when management understands the importance of good communications, and serves as a good example, then better communication is encouraged and the business and employees benefit. Here are some tips for ensuring your company is communicating like it should.
Encourage Face-to-Face Communications
When managers and executives remain behind closed doors issuing directives ("invisible and omnipotent"), everyone else is intimidated and gets the impression that actually talking to people is bad. But when the people higher up on the corporate ladder make the effort to learn people's names and occasionally just take some time to speak to them casually, the ice is broken, and people are less afraid to raise important issues and ask questions. As vital as communications technology is to business, speaking face-to-face allows for communication of context, tone, and expression through facial and body language.
Learn to Listen Effectively
When someone else speaks, too many people are busy formulating what they're going to say in response, and can miss out on what's really being communicated. To listen effectively, first minimize distractions. Lock your computer screen, face the person, and give him or her your full attention. When the person finishes speaking, make sure you understood correctly by paraphrasing back what the person said. Only if you're sure you heard correctly should you respond. Effective listening skills are important enough that you may want to consider holding company-wide training sessions on it.
Ensure Employees Have a Variety of Communications Tools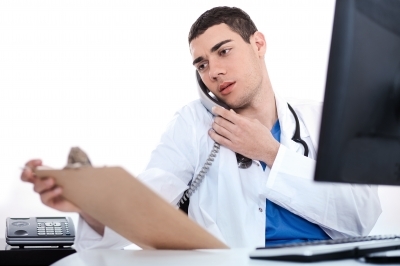 Of course, you can't always talk to employees or customers in person, so it's critical that you provide employees with the communications tools they need. A business email program with effective spam filters and a clean interface is essential. Depending on the type of work your company does, some employees, like salespeople and field engineers, may need company mobile phones or devices so that communication doesn't suffer when they're away from their offices. And every business needs a telephone system that provides outstanding call quality and a range of features like call forwarding, find me / follow me, auto-attendant, and conference calling.
Make Sure Your Business Phone System Meets Your Needs
If the rest of your business is on the technological leading edge, but your phone system is stuck in the dark ages, then your business communication suffers. Today's savvy businesses invest in hosted VoIP phone systems so that communication is effective both internally and externally. Unlike the old PBX systems, hosted VoIP systems install very quickly, and can be configured easily using a convenient web portal. They offer every feature PBX enterprise systems did back in the day, plus new features that make communications better than ever. Best of all, they cost less to install, maintain, and use. Traveling or field workers can make free or very low cost calls from anywhere they have broadband, and remote conferencing is a snap as well.
When management and executives demonstrate good communications skills and reward good communications within the company and externally, they set the stage for good business practices that help the company succeed. Start by setting a good example, and provide your employees with the technological tools they need to communicate in today's business world, and you help ensure success long term. Nexogy offers hosted VoIP systems tailored to each individual business's unique needs, allowing low-cost long distance and international calling, along with a range of features that save you time and money.
Photo Credits: David Castillo Dominici / freedigitalphotos.net, photostock /freedigitalphotos.net
Topics: hosted VoIP, business phone systems, Tech Tips, business productivity
About the Author
Carlos Lahrssen is president and CEO of nexogy, as well as founder, president and CEO of LD Telecommunications, Inc., nexogy's parent company. Lahrssen is an industry fan, follower and advocate — stay...
read more