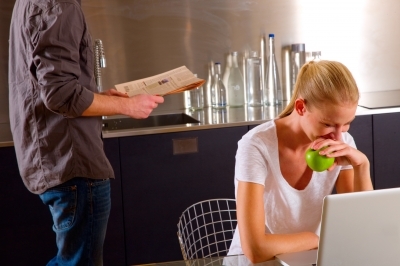 Telecommuting isn't going away. A Harris Poll taken in February and March 2013 found that one-third of Americans who are not self-employed spend some time during business hours working from home. Read on to see how your company can handle the growing trend.

10% work primarily or exclusively from home, with 8% working about half the time from home. And most people who telecommute love it. Ten years ago, only a handful of the companies on Fortune's list of "Best Companies to Work For" offered telecommuting, but today 84% of them offer it.
Challenges Presented by Telecommuting
Telecommuting, however, isn't perfect, and it isn't for every company. After all, there are some jobs (surgeons, truck drivers, restaurant servers) who can't telecommute. Sometimes telecommuting policies aren't implemented well, and some people aren't cut out for it and perform better in a traditional workplace around coworkers. Some companies don't allow telecommuting on Mondays and Fridays because it encourages informal three-day weekends, and it's safe to say that most companies considering offering telecommuting worry about slacking.
Benefits of Telecommuting
However, there are huge benefits to telecommuting. For one thing, when companies don't have to limit job candidates by geography, they have access to a larger pool of talent and may land a coveted employee they wouldn't have if telecommuting weren't an option. Companies with strong telecommuting policies can cut real estate costs by decreasing the amount of office space they have to buy or rent. Workers who skip the freeway commute have lower carbon footprints.
Perhaps most important, though, is that most telecommuters find that working from home is more productive, and that they're more relaxed and less stressed than they would be with the daily pressures of commuting. Telecommuters generally feel like their employers trust them, and they're more than willing to not only get their work done, but to go above and beyond in ways they wouldn't if they had to schlep to and from an office every day.
Adapting Through a Smart Telecommuting Policy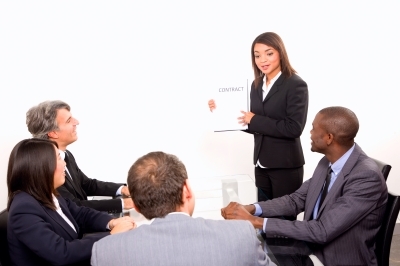 Implementing telecommuting successfully requires companies to develop strong telecommuting policies. When employers implement telecommuting in a piecemeal fashion rather than with a strategic plan, they can appear to be "playing favorites" or otherwise damage morale. Telecommuting should be approached strategically, and should take into account specific worker and departmental tasks throughout the organization. Companies should state telecommuting limits up front and make sure employees understand why these limits are in place.
Observational management has to be replaced with commitment-based management in companies that allow telecommuting. This means developing an agreement between employee and employer as to duties that must be accomplished, and holding employees accountable for meeting their commitments.
Adapting Through Technology Solutions
Once a good telecommuting policy is in place, technology should be put to use to make it work from day to day. Free synchronized file services like Google Drive and Dropbox mean that VPNs are less necessary, and secure access to the company network is required to protect data. A VoIP phone system is often a major component of the telecommuter-friendly workplace. These systems can be configured so that phone, email, and chat systems are integrated seamlessly for telecommuters, so that customers and clients call the company, speak to the person they need to, and may have no idea that the employee is telecommuting or otherwise working remotely.
VoIP allows companies to have all the communications features they rely on, like conferencing, call forwarding, and auto-attendant, while keeping all employees within reach whether they're working in the office, in the field, or at home. Great communication is essential to successful telecommuting, and the right VoIP phone system with mobile capability ensures that communication does not suffer when employees telecommute. Nexogy offers business VoIP solutions that are tailored to the workplace, whether it's traditional or allows telecommuting. You don't have to give up the benefits of a powerful phone system to have cost-efficiency and to meet the needs of today's mobile workforce.
Photo Credits: Ambro / freedigitalphotos.net, Ambro / freedigitalphotos.net
Topics: mobile device management, mobile workforce, business productivity, telecommuting
About the Author
Carlos Lahrssen is president and CEO of nexogy, as well as founder, president and CEO of LD Telecommunications, Inc., nexogy's parent company. Lahrssen is an industry fan, follower and advocate — stay...
read more