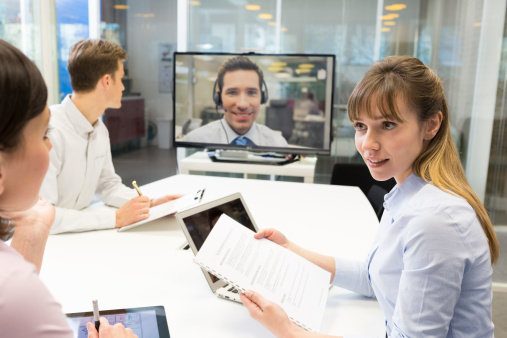 Video chat technology has made it possible for a person to communicate with someone on the opposite side of the globe, as if there is no distance between them. It is having an enormous impact on fields like education and medicine.
Classrooms, for example, can take virtual "field trips" to museums or other sites that would be prohibitively expensive to visit in person. Doctors can deliver services to people who live in rural areas and lack transportation to specialized care. And ordinary people can interact with friends, family, and loved ones wherever they have a broadband connection.
Business is also enjoying the many benefits of video chat technology. It allows companies to hold video conferences on very short notice, saves considerably on travel expenses, and makes telecommuting easier. Video conferencing is also extremely helpful when it comes to establishing and strengthening relationships with partners, clients, and customers the world over, allowing smaller businesses with smaller budgets to compete more effectively in a world markets. Understanding how video chat works starts with understanding a concept called WebRTC
What Is WebRTC?
WebRTC is open-source technology that allows real-time communication (RTC) through a web browser. This technology incorporates the components needed for high quality video communications including network, video, and audio used by video chat and video conferencing applications. WebRTC addresses camera and microphone access, the sending and receiving of media, and the sending and receiving of data directly between browsers. The components are open-source, and are accessed through a JavaScript interface, so that developers can implement their own RTC applications.
Before WebRTC, high quality, real-time video chat communications were only available to big enterprises with deep pockets who could afford proprietary technology and licensing fees. With the help of the cloud, WebRTC makes this great technology available and affordable to even small businesses. In short, it is revolutionizing small business communications, and it's available as part of many telecommunications specialists' cloud phone systems.
Next step:
Contact Nexogy
and learn how video conferencing can improve your business.
Cloud Phone Systems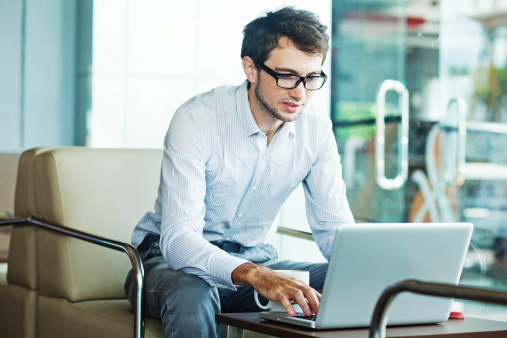 Unlike landlines and on-premises voice over internet protocol (VoIP) phone systems, cloud phone providers host the hardware and provide the actual phone services from the cloud, so that setting up a cloud phone system is a matter of having broadband and plugging in the phones.
Unlike with previous generations' PBX landlines, cloud phone systems do not require wiring an office with a trunk and lines, and offer an impressive array of features at surprisingly affordable monthly rates.
Video chat and video conferencing are included in many cloud phone systems. Top cloud phone providers offer video chat and video conferencing with terrific attributes like custom branding, screen sharing, selective / global mute, and stage control.
Custom Branding
With custom branding, your video chats and conferences can include your company's logo and background right on the screen. It's a terrific way to show your professionalism and demonstrate that you are established and competent. This is especially important when developing relationships with new clients and meeting with existing clients.
Screen Sharing
Using screen sharing when meeting with remote employees, clients, or potential clients makes it possible to share a screen showing a particular application, or your entire desktop. It's a great way to communicate complex concepts or share important data with fewer mistakes or misunderstandings.
Selective / Global Mute
If you've ever participated in a conference call or video conference where background noise made it hard to understand what was going on, you know the importance of having a mute function. Today's cloud phone video conferencing systems allow selective or global muting for controlling unwanted noise.
Stage Control
Stage control functions allow conference organizers to transfer participants in the conference between audio-only and video status. This feature gives a meeting organizer an additional level of control, which can be useful in conferences with multiple parties in locations where technological capabilities differ.
Small businesses may be reluctant to pursue video conferencing technology, believing it to be prohibitively expensive. In fact, it is very affordable, and is included in leading cloud phone systems alongside other critical features like call hold, call transfer, ring groups, presence information, and mobile integration. When you add in video chat and video conference technology, today's cloud phone system covers all your business communications needs, saves you money, and allows your business to run more efficiently.
Nexogy
offers cloud phone systems tailored to customer needs at costs that small businesses can appreciate. Let
Nexogy
show you how you can use today's leading communication technology to raise productivity, save money, and compete more effectively.
Next step:
Contact Nexogy
and learn how video conferencing can improve your business.

Carlos Lahrssen is president of Nexogy.
Topics: business phone systems
About the Author
Carlos Lahrssen is president and CEO of nexogy, as well as founder, president and CEO of LD Telecommunications, Inc., nexogy's parent company. Lahrssen is an industry fan, follower and advocate — stay...
read more