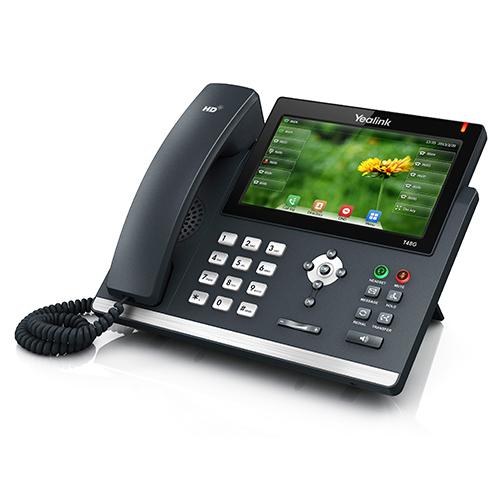 Cloud phone systems are becoming the standard for forward-looking businesses that want to save on phone expenses without giving up any of the great features they need. Hosted via the internet, cloud phone systems don't require running phone lines all over the office, and you don't need bulky or complicated hardware on your premises to run this type of system.
In fact, once you choose your provider, all you need are the handsets (or headsets) and a reliable broadband connection. With your cloud phone system up and running, get set for a more productive workplace. Here are some of the features of cloud phone systems and how they can improve workplace productivity.
Presence Information
When your cloud phone system has presence information, you won't have to guess whether someone is available to take your call or answer your instant message. Presence information shows you at a glance if a coworker is at her desk, on mobile, offline, or on another call, for example. Seeing that one coworker is unavailable, you can quickly check if someone else is able to take your call. Presence information cuts down on the number of voicemail messages you have to leave, and helps employees avoid spending time placing calls to people who are on vacation or otherwise unavailable.
Audio and Video Conferencing
Before conference calling was available, going over steps in a project or finding out who was available for a meeting required multiple calls. Cloud phone systems offer both audio and video conference calling. You can quickly dial in multiple people on a conference call, so everyone's questions can be answered expediently, without a lot of follow-up calling. Video chats can improve productivity even more, by preventing some of the expense and time investment of business travel. Teleconferencing, whether with voice only or with video, is a tremendous productivity enhancer.
Next step:
Contact Nexogy
and find out how a cloud phone system can help you increase productivity while saving money.
Automated Call Routing and Other Call Center Features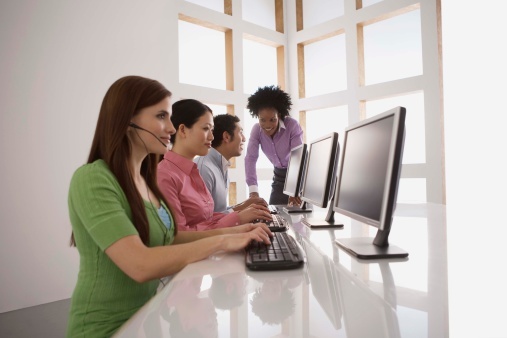 Cloud phone systems for call centers are available with features that reduce hold time for callers and optimize tasks for your call center agents. Automated call routing can be set up to ring the extension of the agent whose line has been idle longest, spreading the workload efficiently and cutting down on the time callers spend on hold. You can even get cloud phone systems for call centers that integrate with customer relationship management (CRM) platforms, so customer information is available instantly and can be transferred to another agent if the call has to be transferred. The result: a more productive call center.
Find-Me Follow-Me
Before mobile integration was incorporated into phone systems, callers may have had several numbers to try in order to reach a contact. It was frustrating for the caller, and for contacts, who may have had to give out personal mobile numbers to stay in touch. Find-me follow-me is a feature that lets your cloud phone system route calls to your employees, whether they're traveling, telecommuting, or temporarily working in another office. Callers can use one number and be confident they'll reach their contact. Employees won't have to give out mobile numbers, yet they'll know their callers can reach them when they're away from their desks.
Mobile Integration
Mobile integration has benefits other than allowing callers to reach employees more easily. Top cloud phone systems allow employees who are traveling to place calls over the company phone system when they're away from the office. Mobile integration also allows telecommuters without landlines to know that they can be reached easily. Callers communicate with telecommuting or traveling employees just as if those employees are behind their desks in the office. The result is fewer missed calls, and fewer missed opportunities.
Conclusion
It's no mystery why cloud phone systems are so popular. They cost far less than yesterday's landline systems, and they're full of features that prevent callers and employees from wasting time. Furthermore, they can be set up quickly and inexpensively by someone without technical or IT skills.
Nexogy
is a leading provider of cloud phone systems that help businesses of all sizes save money and increase productivity.
Nexogy
also offers
WiMax
high speed internet for business, dedicated, fast broadband connections that handily support not only your cloud phone system, but collaboration, file sharing, and the many cloud apps companies now use for business processes.
Next step:
Contact Nexogy
and find out how a cloud phone system can help you increase productivity while saving money.
Carlos Lahrssen is president of Nexogy.
Topics: business productivity
About the Author
Carlos Lahrssen is president and CEO of nexogy, as well as founder, president and CEO of LD Telecommunications, Inc., nexogy's parent company. Lahrssen is an industry fan, follower and advocate — stay...
read more