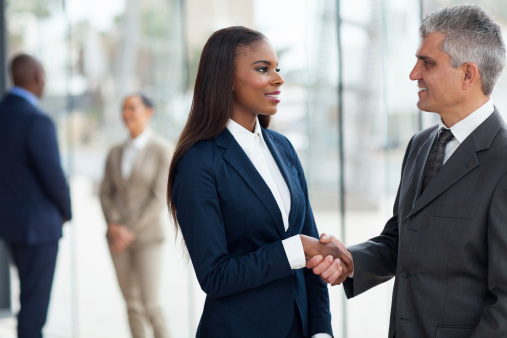 Ring, ring? Let's talk. What phone system will you choose? If you're like many small business owners, telephone-based business is still a big part of the work that you do.
How can your phone system support a smooth relationship with your customers? If you're looking for a quality business phone system, these features will support your growing business.
Landline and VOIP Business Phone Systems
One of the biggest decisions you'll make about your business phone is whether to choose a landline or a Voice Over Internet Protocol (VOIP) system. Do you want to be wired or web-based?
Many business owners choose landlines for their perceived reliability. Companies are comfortable using landlines with their array of services, and a company or owner may have a history of using a particular phone provider. However, landlines also involve infrastructure such as phone lines and the private branch exchange (PBX) that's used to manage multiple phone lines. With more working parts for a business to host, maintenance problems can arise. PBX systems often require a specialist technician, which adds to the cost of maintaining the system. Each line also comes with a cost, often about $40 per phone line.
VOIP systems have opened up a world of low-cost phone system features for small businesses. How do VOIP business phone systems work? Instead of using the wires of the traditional land line, VOIP phones work using the high speed internet connection that your business relies on every day. Your phone becomes one of many activities going through your web service. VOIP systems also offer advanced features that may come as a costly package from a landline phone. These features are often much less expensive when you choose a VOIP line.
Some businesses own their VOIP hardware, but many businesses choose a cloud-based VOIP system for its ease of use. With a
cloud-based option
, equipment is stored and maintained off-site, and the business pays a monthly fee. A cloud-based system is not limited by the amount of space your business has available, so it's easy to add new phone lines without having to add new hardware.
Helpful Phone Features for Your Business
You use your phone every day, but how much time do you spend thinking about why it's easy or hard to use? These must-have
phone features
will make your life on the line much easier.
Next Step:
Contact Nexogy
to learn about innovative phone features that can help your business grow.
Easy and Custom Menus
When you're setting up a phone system, it's essential that it be easy for your employees to use. Look for custom menu options that allow your employees to choose the menu that appeals to them, simplifying their ability to communicate every day.
Call Management Features
Phone features can help your business manage the inflow of calls. Interactive voice response features allow customers to verbally interact with an automated system to answer common question. Call queues and hold music help keep your customers on the line. Automated company directories send customers to the right person.
Understanding Employee Calls
Some business phone systems allow you to track and record data from employee calls. Why would you want to do this? Viewing employee call records allows you to understand how long employees are interacting with each customer and how many times they call. Recording calls allows you to examine them for quality control.
Mobility Tools
These days, many people are on the road or out of the office, and it can be hard to be available to customers. Some mobility features allow you to move from your desk phone to your mobile without hanging up. Other features transfer your calls to your mobile phone and allow you to make business calls from that personal phone, helping you maintain a consistent number and a businesslike feel while calling from your personal phone. If you don't want your phone to ring when you're off work, look for features that transcribe voicemail to email and send it to your phone.
Technical Support
You're interested in running your business, not doing phone maintenance. When something goes awry, how responsive is your phone company? When your phone system works smoothly, this makes your work life much easier.
Conclusion
VOIP and cloud-based phone systems are bringing a wave of phone features to small businesses. Features such as mobility tools make it easier for employees to work remotely while maintaining a professional image. Modern phone features can help your employees work more efficiently and productively. A modern business phone system is a versatile tool for maintaining business relationships of all kinds - including relationships within the business as well as those with customers, vendors and peers.
Nexogy's business phone systems help companies move with the times, adding features to their phone systems that allow them to grow, change, and stay connected to their clients, wherever they might be.
Next Step:
Contact Nexogy
to learn more about how our cloud-based phone options can boost your business.
Carlos Lahrssen is president of Nexogy.
Topics: business phone systems
About the Author
Carlos Lahrssen is president and CEO of nexogy, as well as founder, president and CEO of LD Telecommunications, Inc., nexogy's parent company. Lahrssen is an industry fan, follower and advocate — stay...
read more