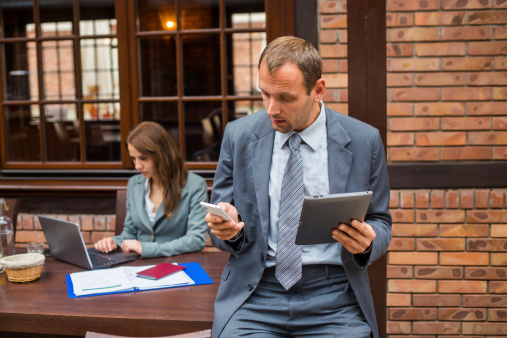 For years the number of mobile devices that people carried with them increased as tablets came to supplement mobile phones and laptops. But the number of devices carried leveled off after 2012, according to an iPass mobile workforce report for 2013.


In the first quarter of 2013, the mobile worker carried an average of 2.95 devices, down from 3.5 devices in 2012. One reason cited for the drop is that more mobile workers are able to use a single smartphone for both work and business, something made possible by cloud based phone systems.

Top business phone systems can be easily integrated with employees' own smartphones, allowing them to take business calls without having to give out their personal numbers. The cloud based phone system is ideal for the mobile workforce, because of easy smartphone integration and other powerful features that mobile workers find indispensable.




The Tools Today's Mobile Office Needs
The cloud based phone system is designed for flexibility and mobility. Employees can't always be at their desks, and nobody likes leaving messages and playing phone tag. With a cloud based phone system, you can offer your team the following terrific features:
Call Transfer - which allows someone to easily transfer a caller to someone more qualified to help, for example
Call Hold - with the ability to play music or a spoken message containing important information (like directions to your office)
Multiple User Calling - so you can dial a third (or fourth or fifth) party into a call easily for an impromptu conference
Auto-Attendant - so your business doesn't need a receptionist to ensure that calls get to the correct recipient
Ring Groups - which cycle calls through a series of extensions until someone in the ring group picks up
Call Recording - for future reference or training purposes
Visual Voicemail - so you can read transcribed voicemail messages as text messages or email messages, and listen to them when it becomes convenient
Video Conferencing - which is terrific for all business meetings with a mobile workforce, and can also be used for training, interviewing, and many other purposes
Private IM Service - that allows your employees to communicate with each other by instant message on a restricted network for greater security and privacy
Next step:
Contact Nexogy
and learn all about our advanced mobility solutions.
Nexogy and Your Mobile Workforce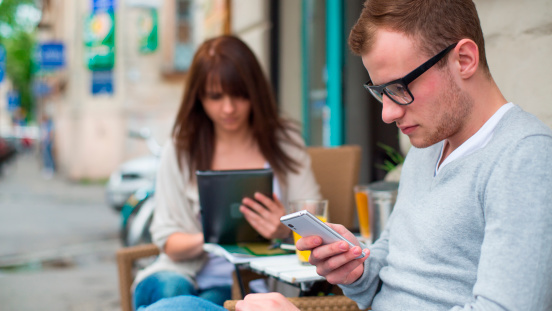 Nexogy takes the cloud based phone system to a whole new level by providing a single-client experience for all your communications needs including presence, instant messaging, voice, video, and conference calling. With nexo.gy you also get the full range of calling features you should expect from a cloud based phone system like call forwarding, call transfer, call hold, voicemail, voicemail transcription, video conferencing and more. These features can be accessed over the Internet without requiring a VPN connection.
When you use nexogy as your cloud based phone system, your users can message each other in real time using instant messaging, and can use "presence" information to optimize communications. For example, if two people are sharing a call and would like to add a third party, presence information can instantly indicate whether the third party is available and taking calls so that less time is wasted tracking down people who aren't available. Presence information can also include notes on location and status, so you can know at a glance that an employee is meeting with a client or traveling. nexo.gy also provides the privacy and security you want for your business communications across a full range of devices including smartphones, tablets, Macs, and PCs.
Cloud based phone systems and mobility go together naturally, and best of all, they can save businesses considerably on costs compared to traditional landline phone systems.
Nexogy
offers a range of cloud based phone system solutions, including nexo.gy. However your particular workforce does mobility, Nexogy can develop a cloud based phone system that perfectly answers their needs.
Next step:
Contact Nexogy
and learn all about our advanced mobility solutions.

Carlos Lahrssen is president of Nexogy.
Topics: business phone systems
About the Author
Carlos Lahrssen is president and CEO of nexogy, as well as founder, president and CEO of LD Telecommunications, Inc., nexogy's parent company. Lahrssen is an industry fan, follower and advocate — stay...
read more