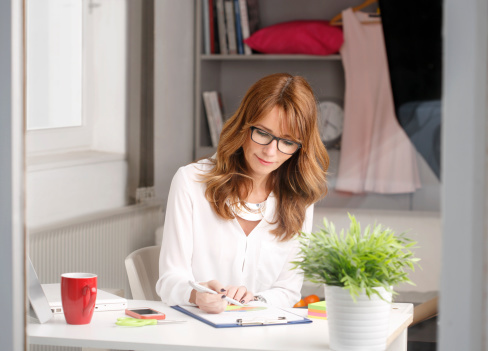 The generally accepted definition of a telecommuter is a full-time employee who works at least half the time from home. By this definition, telecommuters make up 2.6% of the American workforce, according to the Census Bureau's annual American Community Survey.
Add in self-employed people, companies where there's no physical office and everyone works remotely, and people who work at home one day per week or less, and the numbers swell considerably.
The "typical" telecommuter is a middle-aged college graduate working for a company with more than 100 employees. Men and women are about equally represented among telecommuters. A
2013 survey by the Society for Human Resource Management
found that 58% of companies surveyed offered telecommuting, and another 4% planned to offer it as an employee benefit within the next 12 months. Telecommuting was the most-likely-to-be-offered perk, too, beating out casual dress and job sharing.
Telecommuting Advantages and Disadvantages
The US Federal Government learned about the advantages of telecommuting during the winter of 2010, when federal employees worked from home during snow days,
saving the government an estimated $30 million
. But the advantages of telecommuting take place year round. Here are the main telecommuting advantages:
Higher productivity:

Night owls can work at night while larks can work in the mornings, boosting productivity by working at high-productivity times.

Less absenteeism:

Keeping appointments and caring for sick family members doesn't automatically mean missing work.

Higher morale:

Telecommuters feel as if they're trusted to get the job done.

More hiring options:

Hiring the best person for the job becomes easier if they don't have to pick up and move long distance.

Lower overhead:

Many companies get by with less office space, and the result is lower utility bills and rent.
The main disadvantage associated with telecommuting is lack of feelings of inclusiveness and "team spirit." But this can be overcome successfully, through business practices and wise use of technology.
Next step:
Contact Nexogy
and learn how we can make telecommuting more effective.
Building Community and Synergy Among Employees
Building a sense of community when some or all team members telecommute takes a concerted effort, but the results are worthwhile. It starts with hiring the right people and building trust among team members. The best candidates for telecommuting are people who are content working on their own, who have a strong sense of initiative, and who have good communications skills.

Building trust often involves dispelling the notion that telecommuters slack off. Statistics consistently show telecommuters work longer hours and are at least as productive as their office-bound colleagues. Having policies for when people need to be available for calls and how promptly emails and other communications are returned can engender trust among team members.

Some companies hold regular on-site meetings where everyone meets in person. Those who live too far away can attend via audio or video-conferencing. Companies have also encouraged community by ensuring team members have multiple ways to contact each other informally to exchange thoughts. They may set up a special website where team members can chat, like a virtual water cooler.
Using Technology to Your Advantage
Technology is essential to successful telecommuting and to successful teams involving telecommuters. Obviously, broadband is necessary, but business phone systems have a major role in building community among telecommuters and on-site workers. Today you can get IP business phone systems that are remarkably affordable and offer features that meet telecommuter needs brilliantly. Here are some of the features to look for:


Find me / follow me

- a feature that allows the phone system to reach workers whether they're in the office, at home, or on the go

Central management

- a system that is set up so that telecommuters and others working off-site can be reached through a work phone number and don't have to hand out personal numbers

Conference calling

- easy audio setup that allows call participants to quickly and easily dial others in on a conversation

Video conferencing

- a great way to allow virtual face-to-face meetings without the expense of travel.

Planning, cooperation, and technology are the ingredients that go into successful telecommuting. More people are working from home or on the go than ever before, and the numbers are only expected to increase as companies realize the many benefits of telecommuting.

Nexogy provides leading-edge business phone systems to businesses of all sizes that require the features to make telecommuting more effective. Business phone systems that keep up with mobile workers, keep telecommuters in the loop, and offer great options like video conferencing benefit productivity and employee satisfaction. And they are much more affordable than many people realize. Let Nexogy show you how business phone systems help businesses achieve their goals.

Next step: Contact Nexogy and learn how we can make telecommuting more effective.
Carlos Lahrssen is president of Nexogy.
About the Author
Carlos Lahrssen is president and CEO of nexogy, as well as founder, president and CEO of LD Telecommunications, Inc., nexogy's parent company. Lahrssen is an industry fan, follower and advocate — stay...
read more