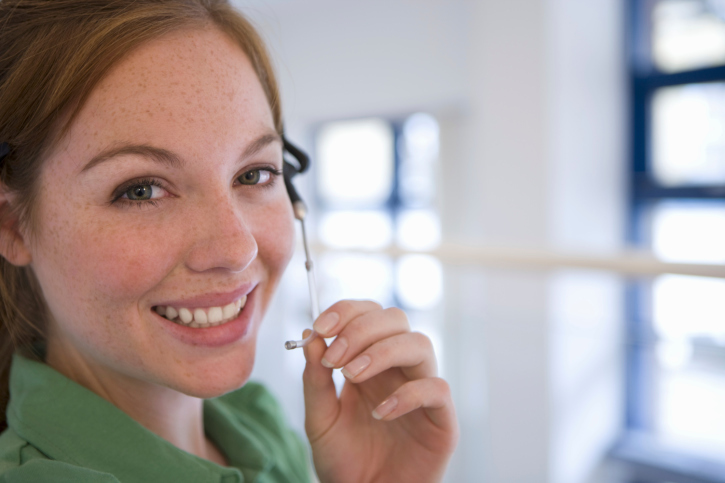 Following call center best practices can save businesses money in more ways than one. A well-trained staff can both handle calls quickly and efficiently and resolve customers' issues effectively at the first opportunity, leading to high customer retention rates and future sales, all with less staff needed to handle calls.

A large part of call center best practices centers on how many customer service issues can be resolved in a single phone call, titled first call resolution, or FCR. The average call center has a first call resolution rate of less than 50%, according to SQM Consultants. If businesses can improve their SQR rate by even 1%, according to SQM President Mike Desmarais, they can save an average of $256,000 in operating costs.


Phone System Features Can Help Improve FCR
So how does a business improve its call center performance? Features of their business phone system may help.


Audio and video conferencing features of cloud-based phone systems can make ongoing staff training easier and more effective. Calls can be recorded and used for training purposes or to give feedback to specific employees. A staff that has the right training about how to handle customer issues effectively will be able to resolve more of them on the first call.


Analytics features can help determine the exact staffing needed to handle clls throughout the hours a business's call center is operational. By determining when call volume is likely to be higher, on-hold times can be reduced, leading to better customer satisfaction and fewer hang-ups.


Call routing can help calls get to the CSR who can best help with their specific issue quickly and efficiently. Call routing also helps the workload get spread around most equally, reducing the stress that can so often lead to less effective handling of calls.


Phone system tracking features can help with efforts to get customer feedback about their call center experiences. By choosing customers to survey, managers can get feedback and relay it to the CSRs they manage, gaining valuable insights into what practices help resolve customers' issues satisfactorily.
Next Step: Contact Nexogy today to take your call center to the next level in FCR with the help of a versatile cloud-based phone system.


CSRs need to know where to transfer calls when they can't resolve the issue without help. The routing features of cloud-based phone systems can be set up to locate the person with the expertise to resolve the issue, rather than just escalating the call to a manager.


CSRs can be motivated to increase their productivity with rewards and bonuses. Eligibility for these can be easily tracked with phone system software so that managers can focus on other aspects of the call center.


A combination of the right phone system, the right CSRs, and the right training can add up to a world class call center that handles customer issues in the most effective way possible. A reputation as a great call center can draw new customers who are eager to participate in a great customer experience.

Next step: Save your business money, time and customers with a Nexogy call center as part of a comprehensive cloud-based phone system. Contact us today.



Carlos Lahrssen is president of Nexogy.


Topics: call center
About the Author
Carlos Lahrssen is president and CEO of nexogy, as well as founder, president and CEO of LD Telecommunications, Inc., nexogy's parent company. Lahrssen is an industry fan, follower and advocate — stay...
read more