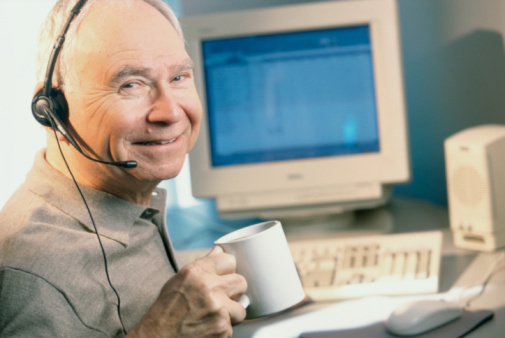 Online audio meetings bring people together virtually using a phone or online portal. Though online audio meetings don't have real-time video or real-time content sharing, sometimes they're exactly the right format in which to hammer out details or work out discrepancies quickly.
Audio meetings are perfect for situations in which:
It's not necessary for participants to see each other

Short or last-minute details must be resolved
Some participants don't have access to video conferencing or a computer
The benefits of the audio meeting are clear. There's no protracted phone tag, all participants hear the same exchanges, and rather than dragging out a series of phone calls among multiple parties, everyone collaborates at once in an efficient manner. They're also great for maintaining momentum between face-to-face or video meetings. With a cloud PBX phone system, online audio meetings are easy and remarkably cost-effective.
Planning for an Online Audio Meeting
A successful online audio meeting requires a few critical "success factors," including:
Planning and creation of a meeting agenda

Effective use of audio meeting technology

Preparing participants by notifying them of the meeting and its purpose

Keeping participants engaged and focused

If you are planning an online audio meeting, this checklist can help ensure the meeting is successful:
List tangible and intangible meeting objectives

Define the level of participant interaction required during the meeting

Determine how various steps can be done virtually and who needs to be involved

Determine what has to be completed real-time during the meeting and what can be done asynchronously

Understand how the audio meeting technology tools (such as the cloud PBX system) are used

Know your role in the audio meeting, as well as other participants' roles

Prepare participants adequately

Determine if you need additional help before or during the audio conference

Next step: Contact Nexogy to learn about easy audio conferencing features.
Ensuring Good Communication During the Conference
Here are a few quick tips for making sure everyone can hear and understand each other during the online audio meeting. Keep in mind that some participants may be using their desk phone, while others use mobile devices, or headsets with computers.
Keep microphones away from speakers to avoid audio feedback

Make a test call ahead of time with a few colleagues to check audio levels and try out features of your cloud PBX conference calling

Keep microphones away from noisemakers like fans and air conditioners

Make sure everyone knows how to mute their mic or phone when they're not speaking to keep extraneous noise from hampering communication

Reasons to Use Cloud PBX Audio Conferencing Features
There are many creative uses for audio conferencing, and cloud PBX phone systems make it easy. With this feature, you can easily gather a group of colleagues, customers, or partners to collaborate on a project, verify details, work out discrepancies, or brainstorm. Audio conferencing using cloud PBX allows you to:
Hold virtual training sessions with multiple people over scattered geographical locations

Reduce travel time and expenses required for on-site meetings

Collaborate in real time with all necessary parties to reduce the need for follow-up calling

Set up meetings quickly, since it's just a matter of getting everyone on the line

Features to Look for in Your Cloud PBX Solution
If you're evaluating cloud PBX solutions for business telecommunications, make sure systems meet your needs both today and down the road. You want to be able to collaborate easily with your clients, vendors, partners, and co-workers, and online audio conferencing capability is a terrific tool for this.





Look for cloud PBX solutions that let you schedule and organize online audio conferencing from places other than your desk. A web portal and mobile capability give you the freedom to organize a quick audio conference wherever you happen to be, from any phone or web browser. Systems that offer automated emails to send participants conference information ensure nobody is left out, and reusable conference IDs make it easy for groups to reconvene quickly and easily at a later time.



Nexogy

is a leading provider of cloud PBX systems for small and medium-sized businesses and offers a range of audio and video conferencing features. With

Nexogy

, you can set up small conferences of up to five people instantly, and use online audio conferencing for more formal multi-party conference calls. Video conferencing features allow easy real-time sharing of information and are great for training, webinars, and face-to-face meetings without travel. Let

Nexogy

show you how affordable these powerful conferencing features can be.



Next step:

Contact Nexogy

to learn about easy audio conferencing features.

Carlos Lahrssen is president of Nexogy.
Topics: online meetings
About the Author
Carlos Lahrssen is president and CEO of nexogy, as well as founder, president and CEO of LD Telecommunications, Inc., nexogy's parent company. Lahrssen is an industry fan, follower and advocate — stay...
read more