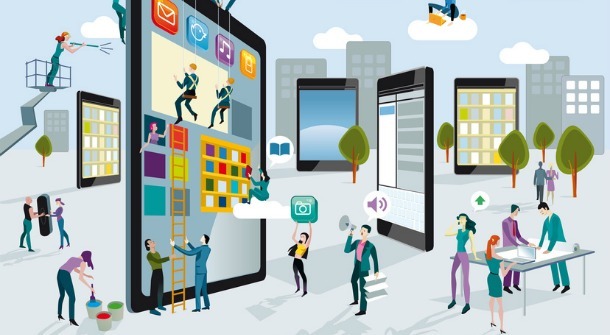 Mobile phones are becoming an integral part of business and personal communications. Americans now spend more time on their mobile devices than they do on laptops and desktop computers. Yet most businesses do not have a mobile strategy, relying on a loose network of business or personal smartphones to handle their mobile communications needs (IBM Institute of Business Value).

Today's businesses are highly mobile, often requiring employees to travel or to work from locations outside the office. The trend of allowing valued employees to work from home is also growing. Without a cohesive mobile strategy, it can become a confusing task to stay in touch with off-site employees, and to make them available to clients who may need their assistance.

Often, businesses will purchase cell phones for employees to use for work purposes. This strategy can work, but leaves the employees carrying both a business and a personal phone. Other businesses allow employees to use their personal devices for business purposes. The drawback to this is that the lines between business and personal can become increasingly blurred, usually to the detriment of the business. Also, there is no good way for the business to secure or track communications conducted through a personal mobile device.
A Method to the Madness
Having a mobile strategy will allow your business to be unified in its approach to communications. Both business-provided and personal devices can work, as long as they are part of the overall strategy. The foundation to the strategy should be a single company-wide phone system that can integrate mobile devices into the system.

Cloud-based IP business phone systems give employees the ability to use a business-provided or personal device within the system through a mobile app. Find me/follow me features will make sure employees are accessible to staff and clients at all times, no matter where they are. The system can also be set up to call a desk and mobile phone simultaneously for instant access.

Next Step: Contact Nexogy to make a cloud phone system part of your business's mobile strategy.


Working Within the System
Integrating mobile devices into the company phone system has many benefits for the business and the employee. When calls are routed through the phone system, they appear to come from the business phone number. Security measures of the system will apply to calls since they are part of the system, protecting the integrity of the business. Calls can also be recorded, tracked and included in reports, which helps keep others in the loop about employees' activities.

Other features, such as getting messages transcribed and sent as emails, can also be used through the phone system to increase accessibility even more. By keeping communications within the business phone system, employees will be held accountable for their business activities, but will also be protected from liabilities and other possible problems.

A mobile strategy that includes a comprehensive cloud-based business phone system will prevent many problems that can occur in a business's communications, improving the overall safety and security of the company.

Next Step: Contact Nexogy to get the details about how to create a mobile strategy that includes a comprehensive business phone system.
Carlos Lahrssen is president of Nexogy.
photo source: Flickr
Topics: mobile device management
About the Author
Carlos Lahrssen is president and CEO of nexogy, as well as founder, president and CEO of LD Telecommunications, Inc., nexogy's parent company. Lahrssen is an industry fan, follower and advocate — stay...
read more