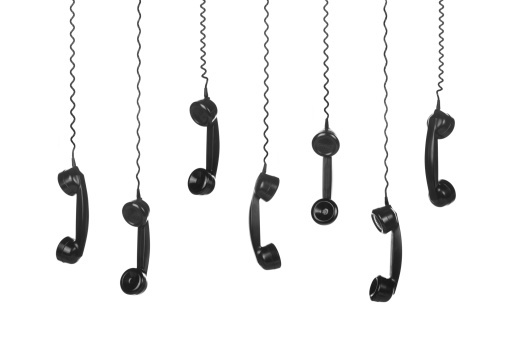 You can still walk into the offices of many businesses and see landline PBX phone systems. After all, companies invested a lot of capital into those phone systems, and they want to get all the use out of them that they can.

But when phone systems need to be replaced, VoIP, and in particular cloud-hosted VoIP, are becoming the new standards. While many tiny startup businesses are able to get by with the personal mobile phones of the handful of employees, this stopgap solution only goes so far. When it's time for a small business to evaluate their choices in business phone systems, they know that yesterday's solutions are inadequate.
New Business Models and New Business Phone Systems
The employee sitting behind a desk from 8 to 5 is becoming an anachronism. Technology has disrupted countless aspects of business, including business communications. Even a company that sells physical products in person to walk-in customers cannot ignore today's business communications expectations. Apple introduced the iPhone in 2007, and within five years half of Americans owned some type of smartphone. In a world where consumers carry their own remarkably powerful communication devices everywhere they go, they have no patience for companies whose business phone systems are stuck in the past.

Screens Are Everywhere
In 2012, Google Chief Executive Larry Page
told a group of analysts
, "We're really starting to live in a new reality, one where the ubiquity of screens really helps users move from intent to action much faster and more seamlessly." Though the topic of conversation was advertising, the truth of the statement applies to businesses in general. Your client with a question about a product or schedule may have just finished booking a lunch table with her mobile phone. She's not going to have much patience with leaving a message with a receptionist or being told to call back at 3:00.
Next step: Contact Nexogy and learn how business phone systems can keep your business at the leading edge of technology.
The Cloud Fundamentally Changes Business Phone Systems

Business phone systems managed in the cloud are the obvious choice for an increasing number of businesses today. This model ensures that businesses have the communications tools they need as both the workforce and clients become more mobile-dependent and geographically dispersed. To the caller, hosted business phone systems do what yesterday's landline PBX systems do: route calls, ring extensions, and bring people in on conference calls. To the business with a cloud-hosted system, however, communication ascends to a whole new level.

When employees work remotely or travel, hosted business phone systems offer the professional presence of displaying the business number when they call vendors, customers, or partners. They let employees bring in third (and fourth, and fifth) parties to conference calls on the fly. And they make employees reachable with one number, eliminating the need to share personal numbers, because today's business phone systems seamlessly integrate with employee mobile devices. Fewer calls are missed, less time is spent tracking down the right person, and "phone tag" becomes a thing of the past.
Integration Is the New Watchword
Go to any tech conference and you'll hear the word "integration" used frequently. Businesses and individuals want apps that integrate with other apps, processes that integrate their laptops and mobile devices, and hardware that integrates with other hardware and software. Integration is important to business phone systems too. When business phone systems integrate seamlessly with employee mobile devices, communication is significantly enhanced. When call center systems integrate with CRM platforms, customer service improves. The cloud is fundamental to integration of business processes, and keeps today's business phone systems at the leading edge of communications technology.
Obsolescence Is Obsolete
Some businesses are reluctant to move to cloud-hosted business phone systems, on the theory that the technology will become obsolete. However, IP technology, the power behind hosted systems, is rapidly becoming the mainstream standard. The FCC is
testing the deployment of IP networks to replace longstanding copper-based telephony infrastructure
, and it is the copper network whose obsolescence will be complete. The flexibility of hosted IP business phone systems means that scaling is quick and easy, upgrading the telephone instruments themselves is a plug-and-play matter, and that the arrival of new features won't require scrapping an existing system and starting from scratch.
At
Nexogy
, we provide cloud-hosted business phone systems to businesses of all sizes, in all industries. We help businesses improve communications, satisfy customers and clients better, and save significantly on phone system costs at the same time. Let
Nexogy
show you the business phone systems that you can be confident will satisfy your needs both today, and long term.
Next step:
Contact Nexogy
and learn how business phone systems can keep your business at the leading edge of technology.
Carlos Lahrssen is president of Nexogy.
Topics: business phone systems
About the Author
Carlos Lahrssen is president and CEO of nexogy, as well as founder, president and CEO of LD Telecommunications, Inc., nexogy's parent company. Lahrssen is an industry fan, follower and advocate — stay...
read more