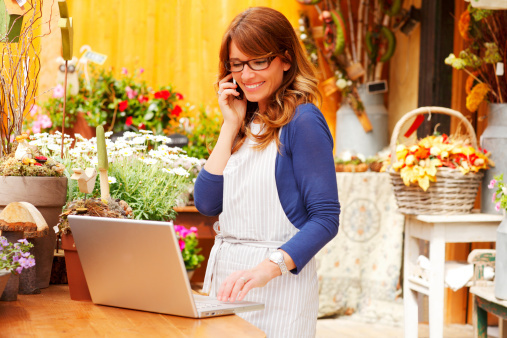 Cloud PBX phone systems for business save money and add flexibility. Imagine replacing a clunky landline network with a new system that costs significantly less, is rich in enterprise-level features, and produces further cost savings through efficiency.


By installing a cloud PBX system in your business, you not only gain immediate benefits, you keep options wide open for the future, because these systems scale up easily, with minimal hassle.

Here are 8 ways cloud PBX technology can increase your business's productivity and profit.
1. Lower Buy-In Costs
Before cloud PBX, installing a new business phone system involved much higher initial capital outlay. Trunks had to be installed, wires had to be run, and equipment had to be paid for or mortgaged. With cloud PBX, the only up-front costs are for the handsets or headsets, and some providers will even roll these costs into the flat monthly fees, reducing buy-in even more.
2. Flat Monthly Fees
With long distance included, you know exactly what your company spends on phone service every month. There are no surprises on the bills, and your employees are free to make the calls they need to make without worrying about running up company phone bills. The result is better, more consistent communication, and happier clients and customers. Plus, many cloud PBX providers offer flat rate international plans to select locations at a very low cost.
3. Less Wasted Effort, More Efficiency
Cloud PBX features like ring groups and automatic transfer to employee mobile devices result in less time spent tracking people down, taking messages, and playing "phone tag." You don't have to hire a receptionist if your phone system has auto-attendant features, which route calls efficiently. If you add cloud PBX call center technology, features like automatic call routing and call center reporting make your call center run smoothly and with maximum efficiency.
Next step:
Contact Nexogy
and learn how cloud PBX benefits your business.
4. Contact Centers Become Feasible
Speaking of call centers, if you thought you couldn't afford one, think again. With some small businesses, development of a small call center can free key employees to concentrate on core business functions while agents handle customer service calls. Cloud PBX drastically reduces the costs of creating a call center, because you don't need a huge call center to enjoy economies of scale with cloud PBX.
5. Mobility Doesn't Mean Missing Business Calls
Whatever your line of business, your workforce is probably more mobile than ever, and with cloud PBX, your phone system is mobile too. Unanswered phone calls can mean losing business, and with cloud PBX, automatic routing to employee mobile phones can reduce or eliminate missed calls without employees having to give out personal numbers. Moreover, off-site employees can make low-cost calls through your business phone system using their mobile phones.
6. Video Conferencing Can Slash Travel Costs
The US government is pushing for more video conferencing to cut travel costs, and
expects to save nearly $5 billion
by doing so. Likewise, your small or medium-sized business can save significantly on travel costs by using video conferencing. Cloud PBX puts video conferencing technology in your hands, with easy setup via intuitive web portal. Speak "face to face" with important colleagues and clients with ease, and without travel expenses.
7. Moving Offices Is Less Expensive
Your business is growing and soon you'll need more office space. In the old days, moving a business phone system was an ordeal involving professional technicians, rewiring, and at least a week or two of upheaval. With today's cloud PBX systems, moving your phone system is as simple as moving the phones and plugging them back in as soon as you have broadband. You'll miss far fewer calls during the transition, and can be up and running again much sooner.
8. Telecommuting Becomes a More Attractive Option
Many businesses allow employees to telecommute, and cloud PBX systems let telecommuters integrate with your business phone system seamlessly with their home or mobile phone. To callers, it's as if the telecommuter is in the office behind their desk. Even call center functions can be extended to telecommuters, which is terrific for keeping your call center open should bad weather or some other eventuality prevent call center agents from coming in.
Nexogy
offers cloud PBX solutions that put your small business in the big leagues as far as phone system features. You'll increase productivity, miss fewer calls, and save money on your phone bills every month, without a huge initial capital outlay. Furthermore, with great features like video conferencing, you can cut travel costs significantly. Let
Nexogy
show you how cloud PBX systems improve your bottom line and help you compete more effectively.
Next step:
Contact Nexogy
and learn how cloud PBX benefits your business.


Carlos Lahrssen is president of Nexogy.
Topics: business productivity
About the Author
Carlos Lahrssen is president and CEO of nexogy, as well as founder, president and CEO of LD Telecommunications, Inc., nexogy's parent company. Lahrssen is an industry fan, follower and advocate — stay...
read more