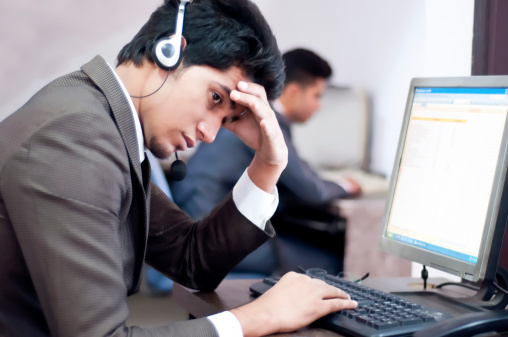 If your business has grown from a small startup, you may have ended up with a communications system that's cobbled together. It may technically do the things you need, but it may not do them well, or efficiently. And new employees may have a hard time getting the hang of managing their communications at work.

At some point it's time to look into a communications system that ties business communications together neatly. And fortunately, small businesses can afford a business phone system that ties together all business communications, offers an impressive array of enterprise-level features, and costs far less than you may expect to pay for a business phone system.


If your business has multiple offices, employees who work from home, employees out doing fieldwork, or employees who travel frequently on business, having the right business phone system is essential. By placing all of your phones - wherever they're located - on one network and centrally managing them, you improve productivity, make mobility easier, and best of all, give customers and clients the ease of communication they want when interacting with your business.


What Does Central Management and Control Allow You to Do?
A business phone system with central management and control allows you to ensure that calls get to their intended recipients easily, that you have flexibility to bring other parties into a conversation, and that you can take advantage of terrific advanced features like video chat and video conferencing. Here are important features to look for in terms of central management and control of your business phone system.
Authorization Codes
Authorization codes are useful in a variety of situations. They can be used to manage employee access levels to your business phone system, to limit which employees can dial outside the system, and to prevent misuse of your business phone system. Authorization codes can also be used to track callers, or match calls to projects or clients and calculate time invested with each client. This is useful for accurate billing of phone calls to clients, particularly in sectors like legal services.
Next step:
Contact Nexogy
and learn about central management features of our business phone systems.
Real-Time Reporting
The business phone system that offers real-time reporting provides several advantages. You can use it to learn about call center capacity and utilization and to monitor patterns of usage. With call logging software (included with top business phone systems), you can track caller numbers, numbers that are dialed, and caller location, along with date and timestamp information. These capabilities are particularly important if you run a call center, because they let you optimize operations from a central reporting dashboard.


Call Recording
Call recording may be used for training or quality assurance, and if your business phone system is hosted in the cloud, you can do all this without investing in call recording hardware, because the capability is made available by your provider. Call recording allows you to collect information without the caller having to repeat it, and recorded calls can be sent to appropriate employees or managers for further customer response.
Call Tracking for Made and Received Calls
A business phone system with call tracking creates detailed logs that give you information on how many calls come into and go out from your organization. This information is especially valuable to call center managers who want to optimize shift assignments and make the call center run as efficiently as possible.
International Calling
Central management and control allows you to obtain a local telephone number in the locations where you do business, even if you don't have a person physically located there. Today, even small businesses are able to expand their operations internationally, and when your business phone system offers centrally managed international calling, developing your business in other countries is significantly easier.
Toll-Free Numbers
It may be the age of mobility, but toll-free phone numbers are still meaningful, even if most callers don't use landlines. Having a toll-free phone number give customers and clients the impression that you are an established presence and that you care about them. Many businesses choose to obtain a vanity toll-free number, which is a number that spells a word or phrase that is easy to remember and relevant to your business. These have been shown to improve ad recall and to "stick with" those who view your ads.
Nexogy
is a leading provider of business phone systems customized to small and medium-sized business needs, with centralized management and control. The features of these business phone systems empower your team to work more efficiently, and ensure calls get to where they need to go. Best of all, it's much more affordable than you may think. Let
Nexogy
show you how our business phone systems tie your business communications together and create new business possibilities.
Next step:
Contact Nexogy
and learn about central management features of our business phone systems.
Carlos Lahrssen is president of Nexogy.
Topics: business phone systems
About the Author
Carlos Lahrssen is president and CEO of nexogy, as well as founder, president and CEO of LD Telecommunications, Inc., nexogy's parent company. Lahrssen is an industry fan, follower and advocate — stay...
read more