IP phone systems work like other phone systems, but unlike the phones you may have grown up using, IP phones place and transmit calls over the Internet rather than over the copper wire networks of the public switched telephone network (PTSN). An IP phone looks like a regular office phone, with a hand piece, keypad, and often a display for showing caller ID and message information.
IP phones generally look like any other business phone.
The inside of an IP phone has a digital signal processor, a converter to convert voice to digital data (and vice versa), plus hardware that connects to your Ethernet or wireless network. Most IP phones have Ethernet ports that allow a computer and phone to share a data connection, and some have battery packs, or AC adaptors. Some IP phones plug in to the Ethernet and are powered that way. Here are some of the most frequently asked questions about IP phone systems.
How Are IP Phone Systems Installed?
Today's cloud-hosted IP phone systems are basically "plug and play." Assuming you have a sufficient broadband connection, phones plug into desktop PCs or directly into the network. Providers can tell you whether your current broadband connection is sufficient. Many of today's IP phone systems are configured through a user-friendly web portal and set up very quickly. You don't have to have lines run or trunks installed with IP phone systems.
What if We Need More Lines Later?
Adding new lines is not a baffling ordeal like it was with old landline PBX phone systems. With IP phone systems, it's a matter of acquiring the phone handsets and notifying your provider, often through the same web portal you use to set up and configure the system. If you have new employees coming on-board next week, you can have their phones set up and waiting for them.
Are IP Phones Compatible With Fax Machines?
Many of today's IP phone systems include virtual faxing, or IP faxing. When your phone system supports virtual faxing, you don't need paper and toner to receive faxes, and you can send and receive faxes using email. If you still want to use a physical fax machine, integrating it with your IP phone system is a matter of converting the conventional T.30 fax protocol into the T.38 fax protocol for IP networks. Some fax machines use T.38 and are no problem to integrate. Fax machines that don't support the T.38 protocol simply need a gateway device between the fax machine and the network.
Next step:
Contact Nexogy
to learn how IP phone systems benefit your business.
Can IP Phones Integrate With Business Applications?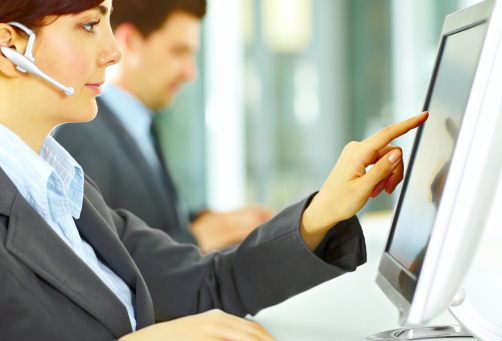 Many IP phone systems integrate seamlessly with popular business applications.
What if We Move to Another Location?
Moving an IP phone system is simple. No longer does moving a business phone system involve a team of technicians removing equipment and wiring the new location for the phone network. With IP phone systems, you simply move the handsets to your new location, and when your broadband is up, plug them in and go. The easy movability of IP phone systems significantly reduces the upheaval involved with moving your offices to a different location.
What Features Are Available With IP Phones?
IP phone systems are amazingly feature-rich. Features that used to be reserved for large enterprise phone systems are now affordable for even very small businesses. Here are just a few of the major features available with IP phone systems and what they do:
• Auto-attendant - a virtual receptionist that never takes a sick day or vacation and routes calls automatically
• Mobile integration - a feature that allows your mobile workforce to make and receive business calls with mobile phones without having to give out personal numbers
• Conference calling - which allows up to five people on one call, or scheduled conference calls with more participants
• Video conferencing - which allows people to see the people on conference calls and share information easily
• Hunt groups - which ring extensions in a specified order if the first line doesn't pick up, and are terrific for ensuring callers speak to a person rather than leaving voicemail
• Find me / follow me - a feature that automatically forwards calls for workers who telecommute, work off-site, or travel frequently
• Custom "on-hold" greetings or music - to reassure callers they haven't been disconnected and play important information
• Visual voicemail - which automatically transcribes voicemail messages to text or email

Nexogy is a leading provider of IP phone systems that are full of great features. Best of all, they're remarkably affordable. Let Nexogy show you what your business phone system should be.

Next step: Contact Nexogy to learn how IP phone systems benefit your business.
Carlos Lahrssen is president of Nexogy.
Topics: business phone systems
About the Author
Carlos Lahrssen is president and CEO of nexogy, as well as founder, president and CEO of LD Telecommunications, Inc., nexogy's parent company. Lahrssen is an industry fan, follower and advocate — stay...
read more