"Unified communications" is defined as all forms of call, multimedia, and message management controlled by a user, whether for business or non-business purposes. Unified communications systems transcend barriers including geographic and time barriers to facilitate communication. With a unified communications system, a business has a comprehensive enough approach to communication that there is far less time wasted waiting around for responses.
For example, say you call a business associate at one of your company's branch offices with a question. They're in a meeting and cannot answer the phone. With unified communications, your voicemail message is automatically transcribed into a text message and / or email message and sent to your contact's phone and / or email account. Your contact can read the transcribed message and be fully prepared when the meeting is over and he can call you back.

Unified communications encompasses several technologies, the most important of which are:
IP telephony

Presence technology

Unified messaging

Conferencing
The Foundation of Unified Communications: IP Telephony
IP telephony powers most business phone systems today and uses a high speed broadband internet connection to transmit telephone calls. Cloud business phone systems are based on IP telephony. But IP telephony is about more than just phone calls. It uses the internet to deliver faxes, instant messages, text messages, and to host multi-party conferences, with or without video.
Presence Technology
Presence technology lets users of cloud business phone systems know when a user is connected to the network and is available to answer calls, answer instant messages, or participate in a group chat. By being able to monitor the availability of a colleague, an employee will waste less time playing "phone tag" or can easily let other employees know that she is available to take calls or chat.
Next step:
Contact Nexogy
and learn about our cloud business phone systems' unified communications features.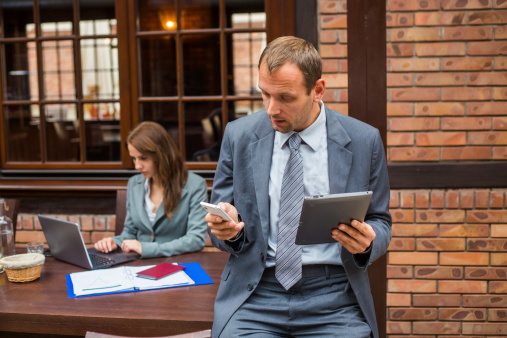 Unified Messaging
Unified messaging collects all of a person's messages, including emails, transcribed voicemails, text messages, and instant messages into a unified mailbox that the user can access using his computer, mobile device, or phone. A cloud business phone system with unified messaging helps ensure messages reach their recipient the first time, wherever the recipient may be located.
Conferencing
Conferencing is also part of unified communications, whether it's a voice-only conference or a video conference. Conferencing lets people accomplish in one phone call what it might take several phone calls to accomplish without conferencing. Conferencing is terrific for cutting down on travel expenses, and it lets coworkers get to know each other better and communicate with each other more effectively.
Every Business Can Benefit from Unified Communications
Unified communications can significantly streamline many business processes. A cloud business phone system that's the platform of a unified communications system ensures that communications reach their recipients as expediently as possible, that less time is wasted tracking down contacts. It also ensures that when one communication modality doesn't get a result (like an unanswered phone call), another can take over seamlessly (like transcribed voicemail).
Conclusion
Business telecommunications play a major role in the transaction of business every day. Building or maintaining a competitive edge requires that employees be able to communicate easily with each other, with vendors, partners, clients, and potential customers. Unified communications technology based on a cloud business phone system enables exactly that.
At
Nexogy
, we offer cloud business phone systems that bring unified communications to businesses of all sizes. We also offer
WiMax
high speed business internet service that gives businesses the broadband capabilities they need to run their unified communications systems flawlessly, shift business processes to the cloud, and enjoy fast, symmetric upload and download speeds.
Nexogy
can help you bring unified communications to your business quickly, and at a cost that saves you money up front, and month to month compared to outdated landline systems.
Next step:
Contact Nexogy
and learn about our cloud business phone systems' unified communications features.
Carlos Lahrssen is president of Nexogy.

Topics: business phone systems
About the Author
Carlos Lahrssen is president and CEO of nexogy, as well as founder, president and CEO of LD Telecommunications, Inc., nexogy's parent company. Lahrssen is an industry fan, follower and advocate — stay...
read more